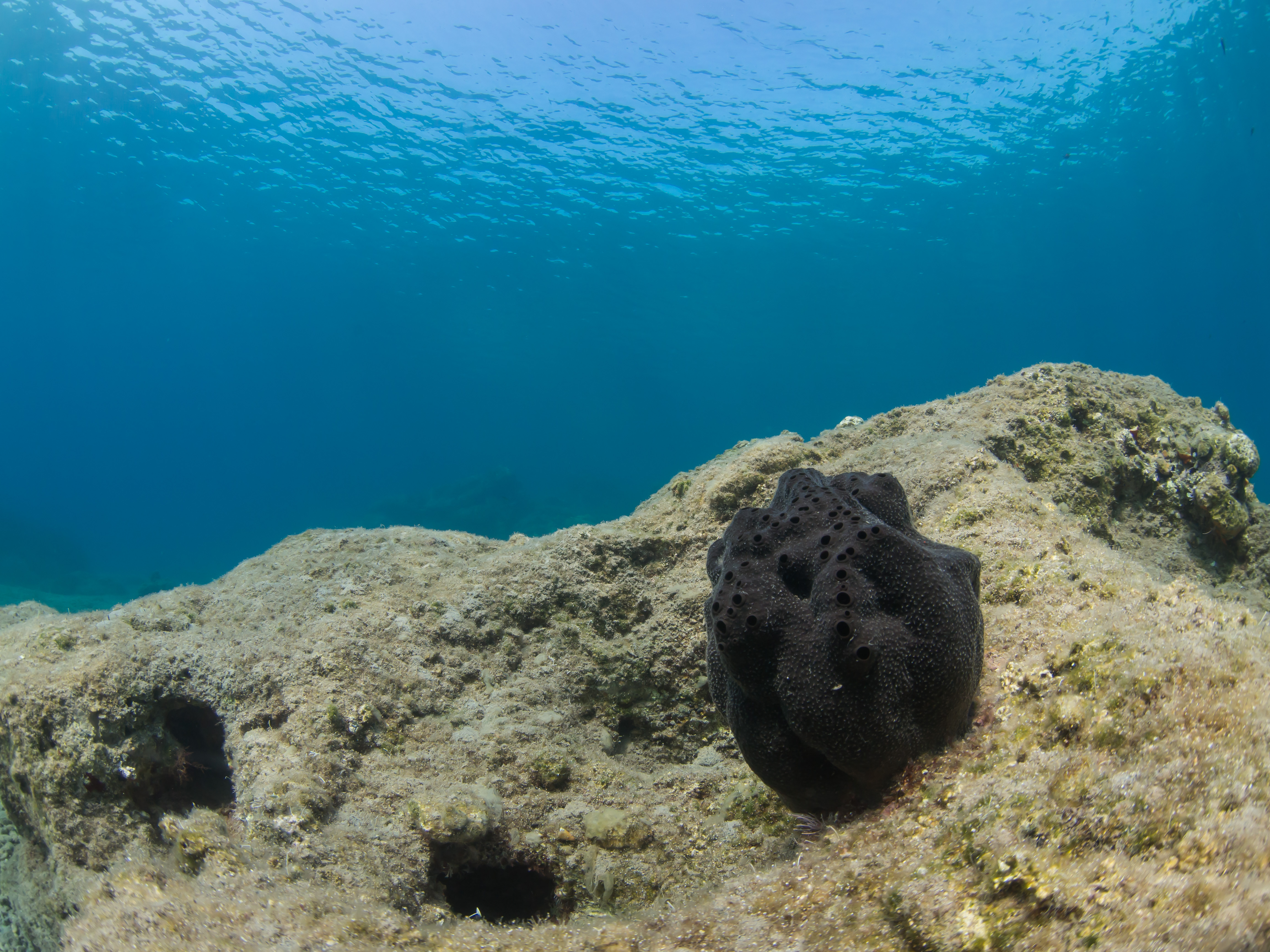 Fish aquaculture is a thriving economic sector in Greece, which is expected to double its size until 2030 by occupying a substantial part of the country's extended coastline. Aquaculture-related pressures to the natural coastal habitats have been acknowledged and investigated, but few actions have been proposed towards their mitigation, apart from the enforcement of restrictive regulations. Sponges emerge as ideal candidates for integrated aquaculture in fish farms, since they harbour high biotechnological potential apart from their remediation capacity.
Fish aquaculture is a major contributor to blue growth worldwide, yet induces a series of pressures to the coastal marine environment. Living sponges are ideal candidates to mitigate organic pollution, owing to their innate capacity for active seawater filtering.
SPINAQUA ("Sponges in integrated aquaculture systems: Towards the delivery of better seawater quality and marine products of high added-value") is a multidisciplinary research project investigating the potential of sponge cultivation in proximity to fish aquaculture for bioremediation and bioproduction purposes. To this end, it adopts an integrated approach comprising: (a) an extended survey of existing sponge habitats, (b) the setup of an experimental open-sea cultivation of selected sponges, as well as (c) the evaluation of their biotechnological potential in the laboratory. Through the adoption of state-of-the-art research methodologies, it aspires to provide a sound baseline to support the development of future bioremediation applications in an efficient, productive and environmentally sustainable manner. In the long run, it will help deliver a competitive advantage to Greek aquaculture enterprises and "cleaner" seas to the people.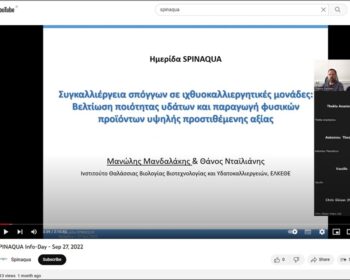 A public project-info day, signaling the end of the project, was held on September 27th, via zoom platform, with researchers, students and stakeholders from the aquaculture and adjacent sectors joining the event. In the first part of this meeting, project coordinators Dr. M. Mandalakis and Dr. T. Dailianis discussed the…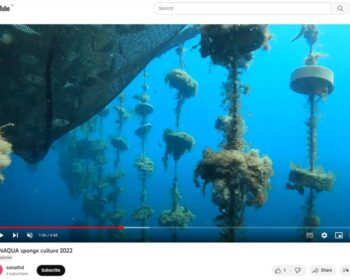 The experimental open-sea sponge culture deployed in proximity to the fish farm cages in Chania (Crete) under SPINAQUA framework is now fully operational and it comprises cultivation structures of at least 50 transplants for the selected 4 sponge species Agelas oroides, Sarcotragus foetidus, Axinella cannabina and Chondrosia reniformis. Each one…
This project has received funding from the Hellenic Foundation for Research and Innovation (HFRI) and the General Secretariat for Research and Technology (GSRT), under the "1st Call for H.F.R.I. Research Projects for the support of Post-doctoral Researchers – The project was submitted in the field of Natural Sciences (Project ID: 239)